Dr. Kristen Hitt has been practicing Veterinary Medicine in the northern Virginia area for several years. Prior to attending vet school, Dr. Hitt was a registered nurse at a local hospital. Using her nursing skills while caring for a stray dog injured by a car, she realized that her dream job would be to combine her long love of animals with medicine. With the love and support of her family, Kris went to school at Virginia-Maryland Regional College of Veterinary Medicine and earned her Doctorate of Veterinary Medicine and she became "Dr. Hitt". As a student, Dr. Hitt was awarded the American Animal Hospital Association's Student Achievement Award for outstanding achievement in Small Animal Medicine. After graduation, Dr. Hitt worked at a practice in Falls Church and did relief veterinary work for hospitals in Centreville, Chantilly, Clifton, Upper Marlboro and Germantown as she worked toward her goal of opening her own dream hospital, Mainstay Veterinary Practice.
Dr. Hitt has a strong interest in surgery and has completed multiple continuing education courses in ultrasound. She also believes in 'giving back' and started a feral cat program in Falls Church. She has traveled to Kentucky, and most recently to North Carolina, to perform surgeries on rescued puppy mill dogs and animals from low socio-economic areas and she has donated her time to the Animal Welfare League of Arlington.
While not busy helping animals, Dr. Hitt enjoys spending time with her husband and their dogs, Dibs and Moxie, her 'mutt' herd of horses at their family farm. Of course, she also enjoys any time she has with her four children, but that time is dwindling as her nest is officially empty. In addition to vet medicine, Dr. Hitt loves traveling, scrapbooking, organizing, and diet coke. She resides in Fairfax with her husband and dogs.
Q & A With Dr. Hitt!
---
What is your Favorite?
Food: Pizza
Candy: Licorice, Milk Chocolate
Drink: Diet Coke, Mojito
Movie: Pride and Prejudice
TV Show: Law and Order, CSI
Book: Anything by Jane Austen
Music: 80s!
Holiday: Thanksgiving
Hobby: Needlepoint, scrapbooking, gardening
Superhero: Wonder Woman
What is the Most Rewarding Part of Your Job?
Helping my clients strengthen their bonds with their beloved pets who are family members and ensuring that they have the best quality of life possible
What is the Hardest Part of Your Job?
When financial constraints limit successful (or possibly successful) medical care
What is One Medical Case that you Remember like it was Yesterday?
I remember removing a bleeding liver lobe in a small dog that would have died when the owner could not afford the specialist. The cancer was contained in the one lobe and the dog lived several more years!
What's your Favorite Activity Outside of Work?
Walking with my dogs at my farm on the weekends
If you could spend a day with any famous person in the world, dead or alive, who would you choose and why?*
Can I say....Jamie Fraser? LOL
Tell me about the moment you chose to become a doctor.
Animals have always been a part of my life, but I didn't consider being a vet until I was a registered nurse at a hospital. I considered going to medical school and considered the nurse practitioner route, but I had some reservations. One weekend, a stray dog was hit by a car near our farm. I rushed him to the vet for emergency surgery. I had mentioned to the vet that I was a nurse and she said, ``Great, you can help!`` I monitored anesthesia and she did the surgery to save the little dog. At that exact moment, I knew that becoming a vet would combine my love of medicine with my love of animals. My husband encouraged me to apply to vet school and I have never looked back. I was the only married vet student with children and could never have succeeded without the support of my family. It took a village and I love my job every day!
If you could only pick TWO types of cases in veterinary medicine to work on for the rest of your life, what would they be?
Surgery and Dermatology
Dr. Chamarande (Dr. C) was born and raised in Fontainebleau, France. After she received her French baccalaureate, she earned her Bachelor of Science and her Masters degree in Chemistry from American University. She worked for the chemistry department at the Naval Research Laboratory in DC, but abandoned her career as a chemist to follow her lifelong dream of becoming a veterinarian. She graduated Cum Laude from the Virginia-Maryland Regional College of Veterinary Medicine (VT). After 24 years of service at a practice in Falls Church, Dr. C. decided that it was time for a change. She joined MVP where the owner and staff share her values in providing quality veterinary care and believe in strengthening the bonds between pets and their families to assure a long and happy relationship. She enjoys the atmosphere at Mainstay for it allows time to get to know the pets and their owners, educate owners on veterinary care, discuss training, play with puppies and kitten, and just plain socializing pets!
Dr. C has an active interest in Internal medicine and Animal Behavior and Training. She is a longtime member of AAHA, VVMA, NVVMA, and D.C. Academy of Veterinary Medicine. Dr. Chamarande is federally accredited by the U.S. Department of Agriculture, which authorizes her to perform evaluations and issue International Health Certificates for pet travel.
In her free time, Dr. C enjoys time with her husband, three children, and her furry pets. She has a frequently-rotating "pet population" at her house as she often finds herself taking in animals that need new homes. Currently the pet population at Dr. C's household consists of Lazarus (a rescued Yorkie), Chewy (a rescued Anatolian Shepherd) and Rosie (a re-homed chihuahua). That is about all the animals her poor allergic husband can tolerate at this time.
Q & A With Dr. C!
---
What is your Favorite?
Food: French baguettes and cheese
Candy: Heath bars
Drink: Coke Zero
Movie: The Lost Boys
TV Show: Everybody
Book: Can't decide! I've read too many!
Music: Can't decided on this either - I listen to all types of music!
Holiday: Christmas
Hobby: Tennis
Superhero: Spiderman
What is the Most Rewarding Part of Your Job?
Educating clients
What is the Hardest Part of Your Job?
Delivering bad news to owners
What is One Medical Case that you Remember like it was Yesterday?
Years ago there was a previous client at my previous practice that brought in a Yorkie puppy who had parvo and wanted to euthanize him. He didn't move for 5 days and was on the brink of death. The owner surrendered him to me and I have had him ever since. I named him, Laz!
What's your Favorite Activity Outside of Work?
Horseback riding
If you could spend a day with any famous person in the world, dead or alive, who would you choose and why?*
Sandra Bullock
Tell me about the moment you chose to become a doctor.
I was 5 years old. I wanted to save all of the pets in the world.
If you could only pick TWO types of cases in veterinary medicine to work on for the rest of your life, what would they be?
Dermatology and endocrinology
Dr. Hosler, formerly Dr. Welebir, was born in Fairfax, VA and raised in Potomac, Maryland. She has always had a passion for animals and has wanted to be a veterinarian since she was 4 years old. Dr. Hosler graduated from Penn State with a degree in Biomedical Sciences and relocated to Virginia full-time after receiving her DVM from Virginia Maryland Regional College of Veterinary Medicine. She has worked in emergency medicine, general practice and shelter medicine since starting her career and has always loved forming long-term bonds with her patients and helping them through a variety of ailments. She has a special interest in arthritis, pain management, dentistry, soft tissue surgery, and helping families cope with behavior issues in their pets.
Dr. Hosler resides in Lorton with her husband Erik and their two dogs, a dachshund named Gracie Lou and a pittie named Kevin. Outside of work she can be found at the Pure Barre studio, exploring hiking trails or visiting Virginia's ever-growing number of local vineyards and breweries.
Q & A With Dr. Hosler!
---
What is your Favorite?
Food: Maryland Blue Crabs
Candy: Milk Duds
Drink: Sweet Tea
Movie: Hmm so many good ones!
TV Show: Law and Order SVU, Ted Lasso
Book: The Lies That Bind
Music: 80s, Classic Rock
Holiday: Christmas
Hobby: Pure Barre
Superhero: Wonder Woman
What is the Most Rewarding Part of Your Job?
Forming a life-long bond with patients
What is the Hardest Part of Your Job?
Helping owners say goodbye
What is One Medical Case that you Remember like it was Yesterday?
A poisonous snake bite on the tail of a dog that ended up needing amputation.
What's your Favorite Activity Outside of Work?
Visiting wineries and breweries with my husband, Erik
If you could spend a day with any famous person in the world, dead or alive, who would you choose and why?*
Princess Diana
Tell me about the moment you chose to become a doctor.
I was 4 years old when I knew I wanted to be a veterinarian. I've always felt bonded with animals, especially dogs.
If you could only pick TWO types of cases in veterinary medicine to work on for the rest of your life, what would they be?
Surgery and Behavior
Head Licensed Veterinary Technician
Brittany grew up in Lorton, Virginia and graduated with a Bachelor of Arts in English Literature and a minor in Communications from Christopher Newport University. She was originally in school to become a teacher, but after taking a volunteer position at The Virginia Living Museum, she realized her true passion was working with animals. She has three years of experience working at a dog and cat boarding facility. There she really developed her skills in animal care and furthered her love for the furry four-legged community, especially those of the English Bulldog variety. Brittany also has experience working with animal rescue organizations such as the Norfolk SPCA and SPCA NoVA. In her free time, Brittany enjoys playing Disney Princesses with her young nieces and spending time with her family and friends. You can often find her shopping for Vera Bradley bags, eating lots of Pho soup or relaxing at home with her husband and two dogs.
Nicholas was born and raised in Western Maryland where he graduated from Frostburg State University with a Bachelors in Sociology. His first animal welfare job started at his local shelter in Washington County where he went from being a kennel tech to working with the high volume spay/neuter team. He transitioned into general practice where he continued to learn more about veterinary medicine. During that time, Nicholas gained 5 years of veterinary experience and especially enjoys mentoring others in the field. He hopes to help MVP grow its staff by providing a training program that is both high quality and fun. At home, Nicholas takes care of his partner and two dogs, Atlas and Luna. In his off time, Nicholas enjoys sailing on the Chesapeake or finding more plants to add to his plant room.
Kaylee was born in Woodbridge, Virginia and started her animal career as a summer teen volunteer at the Prince William County Animal Shelter when she was 15. A year later she was old enough to start working as a Kennel assistant at her local animal hospital and the rest is history. Kaylee enjoys every part of the veterinary feild and looks forward to taking classes to get her Veterinary Technician License! She is now living in Fairfax and enjoys coming to work with the MVP team. Outside of the clinic she shares her two dogs, Blueberry and Kisses, with her mom and loves superhero movies and tv shows.
Nikira was born and raised in Washington DC and moved to Virginia in 2005. Her passion for animals sparked in high school when she started pet sitting for her neighbors and friends. Nikira enjoys taking care of dogs, cats, exotics and her two favorites, Neela, the spunky pitbull, and SugarPlum, the potbellied pig. Nikira has 7 years of experience in the veterinary field ranging from general practice to emergency. In those years, she has worked on developing her animal care skills and is currently in school working towards becoming a Licensed Veterinary Technician. In her free time, Nikira studies for school and pet sits for her community. She hopes to one day specialize in veterinary medicine in surgery and dental care.
Savannah was born in Germany, but has lived in Virginia most of her life. Savannah's love of animals started at an early age and further grew when she started volunteering at shelters when she was just 9-years-old. Since then she has fostered all types of animals! Savannah's has been working in veterinary medicine for over 5 years and is currently studying biotechnology. She has a chihuahua named Belle and a cat named Doodlebug who are the best of friends! In her spare time, Savannah enjoys collecting unique plants, traveling and hanging out with friends!
Carina was born and raised in Salinas, California and moved to Virginia with her husband Robert 9 years ago. She has her associates in business administration and is currently working towards her bachelors. She's been in the veterinary industry for the past 8 years, but has been an animal lover since birth. While Carina loves your pets and enjoys helping take care of them on a daily basis, she has two cats of her own, Hambone and Chedda, along with three dogs, Max, Gus, and Preci. In her spare time, Carina enjoys pet sitting, reading, baking, watching movies, and spending time with her husband exploring the DC area. Carina looks forward to going to work and making a difference in your pet's lives every day.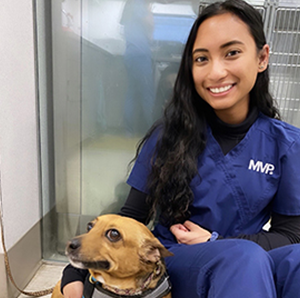 Grace was born in the Philippines and raised in Northern Virginia. She has loved animals her whole life, especially dogs, but since joining MVP she has a new found love for cats that is growing drastically and catching up! Grace's favorite things to do outside of the practice include trying new food, watching scary movies, and shopping!
Savannah grew up in Arlington, VA but lived overseas in England for 4 years before moving back to Fairfax, VA for high school. Ever since she was little she wanted to work with animals, and entered the animal field after her freshman year of college, where she interned at a wildlife rehabilitation center in Clarke County, VA! Savannah officially joined the veterinary field in 2019 as an assistant and graduated from Christopher Newport University in 2021 with a Bachelors in Biology with a minor in environmental studies. Her favorite thing about working in this field is spending her day with animals and constantly learning. In her free time, Savannah can be found either cuddling with her pets, Molli and Pearl, attending a boxing class, or enjoying the outdoors!
Maddie was born and raised in Northern Virginia and has been in the veterinary field since 2016 when she started work at the front desk in general practice. It was her beloved family dog, Cooper, that inspired her start in veterinary medicine back in 2016. In his last year and a half of life, he taught her more than a few things about senior dog care and the dedication it takes to manage a chronically ill pet-through medications, laser therapy, acupuncture, and hydrotherapy – he was a perfect patient!
Maddie enjoys spending time with her family and navigating the ups and downs of training their sweet and stubborn new rescue puppy named Ellie. Outside of work, she enjoys watching a good documentary, catching a local theatre production, gardening, and if it's a race weekend- watching a Formula One race.
Hannah is excited to be a member of the MVP team! Hannah attended high school in Fairfax, Virginia and received her B.S. in Meteorology from Virginia Tech. She made a career switch and became a veterinary assistant in October 2020 and has enjoyed it tremendously. She has a particular interest in diagnostic testing. Hannah's favorite aspect of veterinary medicine is helping owners better understand why preventative care is so important for their pets. During her time off, Hannah enjoys spending time with family and playing fetch with her pit-bull mix, Koda.
Blaine was born and raised in Arlington, Virginia and continues to live there with her husband and their chocolate lab, Mato. She graduated from James Madison University with a Bachelor's in Business Administration and later went on to obtain her Master's in Busines Administration from Georgetown University. Blaine grew up around veterinary medicine since her mom is Doctor Hitt! Together, they built Mainstay Veterinary Practice from the ground up. Blaine enjoys hiking and traveling and is on a mission to visit all the National Parks in her lifetime. One of her favorite travel memories was hiking Half Dome in Yosemite National Park and Angel's Landing in Zion National Park.
Emmy was Dr. Hitt's 13-year-old French Bulldog that passed away peacefully in 2020 after being diagnosed with a very large brain tumor. She was a part of Mainstay Veterinary Practice since it's very beginning, accompanying Dr. Hitt to the construction site and then to work in the office once the practice opened. Emmy was famous among the original MVP clients. She enjoyed nestling in her bed as well as sleeping on her heating pad. Emmy grew up with a chocolate lab brother, Dibs, and a shepherd mix sister, Moxie. Emmy could frequently be found stealing the other dogs' beds. While not sunbathing, she could easily be located by listening for her unique snorting noises. Frequently breaking the rules, Emmy became an angel at the sight of Twizzlers. She loved little kids that were ``her size`` although deep down Emmy thought that she was a giant dog. She wasn't even afraid to greet horses! Her big personality made up for her small size.
Laz, also known as jumping bean, was turned over to Dr. C when a couple opted to euthanize him at only a couple weeks old as he was comatose from Parvo. Asking if she could try to save him, Dr. C spent days nursing him around the clock until he finally pulled through! You would never know his rough start to life by his cheerful attitude, happy demeanor and wiggling body. Laz loves all dogs and people and is a little energizer bunny. He runs frantically around the practice with his own jumping-like gait and all you see is flowing hair darting by! We appreciate the extra "mopping" he does for us as he covers a lot of ground quickly!
Reese is Brittany's 5 year-old Pekingese/Basset Hound mix. She basically looks like a Pekingese head attached to a miniature Basset-shaped body. She has a silly personality to go with her silly shape. Reese loves running sprints up and down the practice hallway and wrestling with her best friend, Laz. Reese is a ham when it comes to wanting attention and will try to be as cute as possible so someone will come say "Hello". Her go to position is usually on her back so she can get a belly rub. Reese puts a smile on everybody's face and is a dog who can cheer you up when you're having a bad day.
Roo is Brittany's Husky mix. She has the voice and mannerisms of a husky and the hunting instinct of a hound. She is always on squirrel patrol, but we think she really just wants to be friends with them. Being part husky, she always has a lot to say. She is very talkative and can be demanding when she wants something. She loves to give handshakes and high fives. Roo is Reese's younger sister and they are best friends. You can often find them playing tug of war, cuddling or grooming each other. She always keeps us laughing. She loves to run and play but is also happy to cuddle on the bed at night. There is never a dull moment when Roo is around. She keeps life entertaining.
Mato is Blaine's 3 year-old chocolate lab. His name means little bear in Sioux. He can frequently be found around the practice, but especially on the scale staring down the receptionist asking for more treats. When not begging for food, Mato can be found on-hold with the ASPCA animal poison hotline as he likes to eat things out of spite when his parent's aren't giving him adequate attention (by Mato standards). The list of items ingested include glass bulb ornaments, pepper spray and 25 citronella tea candles. Mato enjoys his farm, swimming and hanging out at Grandma daycare with his best bud, Dibs, also a chocolate lab.